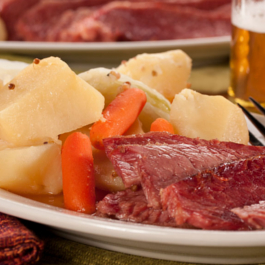 Courtesy of Mr. Food Test Kitchen
Servings: 6
Prep Time: n/a
Cook Time: 190 Min.
* 1 (3- to 3-1/2-pound) corned beef brisket with pickling spices
* 8 c. water
* 4 potatoes, peeled and cut into quarters
* 4 carrots, peeled and cut into 2-inch chunks
* 1 green cabbage, cut into 2-inch wedges
1. In a large Dutch oven over high heat, bring corned beef with pickling spices and water to a boil. Reduce heat to low, cover, and simmer 2-1/2 hours, or until almost fork-tender.
2. Add potatoes, carrots, and cabbage to corned beef and continue cooking, covered, 25 to 30 minutes, or until vegetables and corned beef are fork-tender.
3. Place corned beef on a cutting board and slice across the grain. Serve with vegetables.

Recipe and Image from the Mr. Food Test Kitchen
© 2018 Ginsburg Enterprises Incorporated. All rights reserved.